Story time with Spike Lee.‌ ‌ ‌ ‌ ‌ ‌ ‌ ‌ ‌ ‌ ‌ ‌ ‌ ‌ ‌ ‌ ‌ ‌ ‌ ‌ ‌ ‌ ‌ ‌ ‌ ‌ ‌ ‌ ‌ ‌ ‌ ‌ ‌ ‌ ‌ ‌ ‌ ‌ ‌ ‌ ‌ ‌ ‌ ‌ ‌ ‌ ‌ ‌ ‌ ‌ ‌ ‌ ‌ ‌ ‌ ‌ ‌ ‌ ‌ ‌ ‌ ‌ ‌ ‌ ‌ ‌ ‌ ‌ ‌ ‌ ‌ ‌ ‌ ‌ ‌ ‌ ‌ ‌ ‌ ‌ ‌ ‌ ‌ ‌ ‌ ‌ ‌ ‌ ‌ ‌ ‌ ‌ ‌ ‌ ‌ ‌ ‌ ‌ ‌ ‌ ‌ ‌ ‌ ‌ ‌ ‌ ‌ ‌ ‌ ‌ ‌ ‌ ‌ ‌ ‌ ‌ ‌ ‌ ‌ ‌ ‌ ‌ ‌ ‌ ‌ ‌ ‌ ‌ ‌ ‌ ‌ ‌ ‌ ‌ ‌ ‌ ‌ ‌ ‌ ‌ ‌ ‌ ‌ ‌ ‌ ‌ ‌ ‌ ‌ ‌ ‌ ‌ ‌ ‌ ‌ ‌ ‌ ‌ ‌ ‌ ‌ ‌ ‌ ‌ ‌ ‌ ‌ ‌ ‌ ‌ ‌ ‌ ‌ ‌ ‌ ‌ ‌ ‌ ‌ ‌ ‌ ‌ ‌ ‌ ‌ ‌ ‌ ‌ ‌ ‌ ‌ ‌ ‌ ‌ ‌ ‌ ‌ ‌ ‌ ‌ ‌ ‌ ‌ ‌ ‌ ‌ ‌ ‌ ‌ ‌ ‌ ‌ ‌ ‌ ‌ ‌ ‌ ‌ ‌ ‌ ‌ ‌ ‌ ‌ ‌ ‌ ‌ ‌ ‌ ‌ ‌ ‌ ‌ ‌ ‌ ‌ ‌ ‌ ‌ ‌ ‌ ‌ ‌ ‌ ‌ ‌ ‌ ‌ ‌ ‌
Read time: 11 min

Good morning, Achiever!
INSPIRATION
"Silence isn't empty. It's full of answers."
– Unknown
HEALTH & WELLNESS: Keep healthy in the hustle
Don't Go Chasing Waterfalls, Except When You Should…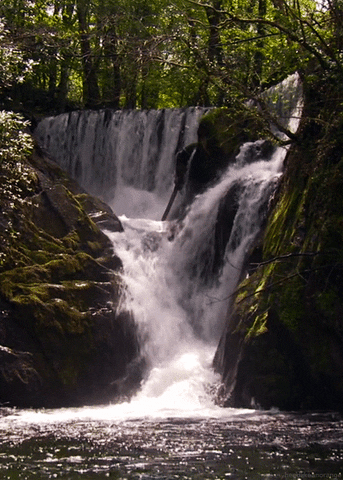 Negative ions are odorless, tasteless, and invisible molecules that we inhale in specific environments. There's a reason we find environments like mountains, waterfalls, and beaches relaxing. In our bloodstream, the negative ions produce biochemical reactions that brighten our mood, increase serotonin, relieve stress, and boost our energy. So in this case, negative ions = positive atmosphere.
These ions are created as air molecules break apart due to sunlight, radiation, and moving air and water. This is why that cabin in the woods provides you so much comfort, and the waves at the beach melt your stress away. The air in these environments contains tens of thousands of negative ions, much more than your house or office…or home office. They exist en masse in:
Ultraviolet (UV) rays from the sun
Discharges of electricity in the air after a thunderclap or lightning strike
Wherever water collides with itself like a waterfall or the ocean shore (creating the Lenard effect)
Produced as part of the normal growth process for many plants
Interestingly enough, studies from Columbia University of people with seasonal affective disorder and depression show that negative ion generators relieve depression as much as antidepressants.
So, it's perfectly okay and probably great for you to go chasing waterfalls, you can even stick to the rivers and the lakes that you're used to.
ACHIEVERS' ARMORY: Equip yourself with proven tools & tactics
Looking For A New Book? Likewise!

Looking for a new book to read? Perhaps you're ready to switch it up and subscribe to a new podcast. Maybe you're just tired of the same old recommendations from your family and friends (but definitely not from The Achiever)that you either already knew about or really aren't your style. Either way, if you often find yourself trying to find interesting and engaging new content to consume, checkout Likewise.
Likewise is a free web service with an awesome app that gets to know you and your interests and then matches you with books, podcasts, TV shows, and movies you're likely to love. Instead of that old-school process of creating a profile that will produce a bunch of random results, Likewise tailors your results to things you'll actually enjoy and use. Use Likewise to find content rooted in self-development, and it will produce results and educate you on things like mindset, habit building, and other topics that will help you reach your goals, for example.
Check Likewise out and see how much better your content becomes.
EMOTIONAL INTELLIGENCE: Master the soft skills
Storytelling Lessons from Spike Lee

"Spike Lee" by thomas.rome is licensed under CC BY 2.0
Storytelling comes naturally to some, while others have to learn and improve upon their skills over time. In Stephen Denning's book, The Leader's Guide to Storytelling, he says, "Storytelling is more than an essential set of tools to get things done: It's a way for leaders — wherever they may sit — to embody the change they seek."
In his masterclass, the renowned writer, director, and producer Spike Lee shares several storytelling lessons.
Here are three:
Do The Research. Before creating a movie, Lee spends a lot of time immersing himself in his topic by reading books and articles, listening to the music of that era, and checks out the competition (related work including movies and documentaries others have created on the topic). Research gives your story perspective, and without it, "your story will likely be one-sided," says Lee. How exactly does Lee do this? He goes old school. He takes detailed notes on index cards, places them in a box, and when the box is full, he is ready to begin his story.
Craft The Story. An emotional connection with the audience is the pinnacle of storytelling. Lee crafts a story without a formula. It's about the setup, conflict, and resolution.
Do The Work. In Lee's case, this means writing the script. The best way to do this is to break down the big-hairy task into less-intimidating (5 o'clock shadow) deliverables. Nevertheless, creating something from nothing is challenging work that requires focus, organization, and working hours.
There are simply no shortcuts to crafting a story that people find relatable, moving, and compelling – one that inspires a community around something and for others to tell their own stories. Or to "do the right thing."
THE FIRST STEP: Seize the opportunity
The 5 "Friends" You Need To Know

When you're first starting out in your business or side hustle, money will be tight. You tend to struggle to make money at first, and when you do, it goes towards the black hole of start-up costs or is reinvested into the company to buy things you need. You could use all the help you can get from friends.
In this case, the type of "friend" listed below may be your actual friends, family members, former co-workers, network contacts, or a contact from someone else's network. These are types of people helpful to know. They're likely able to offer some free or discounted services you need to get started, and at minimum, can point you in the right direction.
The Marketer: Someone who understands basic marketing, such as creating websites, starting social channels, and writing a blog.
The Designer: A graphic designer can create your first logo at little to no cost and may be able to develop some basic images for you to start with.
The Lawyer: Having a contact in law may come in handy if you need someone to review a contract or agreement, but you don't have the budget to pay for an expensive attorney.
The Writer: Someone with writing experience can write your initial website copy, including the "About Us," team bios, and product descriptions.
The Salesmen: An experienced salesperson can teach you the fundamentals of selling and help you prevent wasting your time on tactics that aren't likely to yield results.
After all, we get by with a little help from our friends.
SOCIAL CAPITAL: Build a powerful network
The Power of Connection Lies within Your Voice

Voice perception is the study of how the brain processes and analyzes information gathered from listening to someone's voice.
When communicating with others, we present various "selves" that differ depending on who we are talking to and the topic of our conversation. In essence, we are chameleons. We change our speed, tone, pitch, and words when talking to family, colleagues, and strangers.
Interestingly, hearing happiness in someone's voice makes us pay more attention to our conversation than hearing a happy tone in our own voice. Our auditory processing system has a razor focus on expressive changes in speech, especially in a stranger's voice. You've probably asked someone why they're talking "like that" when they seem irritated, but when asked the same, you respond with, "I'm not talking in any way… I'm talking like I normally do!". Remember saying that to your partner? Ouch.
Conversations (not tweets) make us feel good. A 2012 article entitled "Instant Messages vs. Speech: Hormones and Why We Still Need to Hear Each Other," found hearing the voice of our loved ones reduces our blood cortisol levels and heightens the release of oxytocin. Researchers found that the tones and not the content of the conversation are most likely to produce positive, feel-good hormone effects.
Making a call instead of texting can make both caller and receiver feel so much better. The brain is wired for voice! We still need to hear each other: "though rich in nuance and emotional tone, written language, texting or instant messaging is no substitute for spoken language or direct in-person contact."
Tone matters so much that a study found that when patients listened to a 40-second audio recording of a surgeon, they could accurately predict malpractice. The vocal indicators for misconduct were a deep, loud, moderately fast, unaccented, and articulated voice. Ironically, the same characteristics that make communication easy to understand also communicate a tone indicating dominance, lack of empathy, understanding, and apathy. What tone should an ethical surgeon take? Vocalization and intonation that express concern, compassion and a slight edge of anxiety are much better tones.
Don't worry though, you don't have to video chat or be in the same room to reap the benefits of voice. A 2017 study found that voice-only communication elicits greater empathy than a face-to-face conversation. This is the justification for picking up the phone you need.
All this voice talk reminds us of the Maya Angelou quote, "People will forget what you said, people will forget what you did, but people will never forget how you made them feel." It doesn't matter what you say, but how someone hears it, which starts with your voice.
FUN STUFF – WORDS, WORDS, WORDS
mirabilia
mee-rah-bil-i-ah | plural noun
marvels; miracles.
NEWS BREAK: Stay informed
1% BETTER: Improve each day
Think of an app or program you find useful and share it with your contacts via social media.